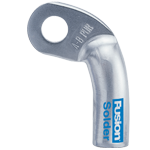 Battery Terminals & Lugs
QuickCable is your source for the widest selection of battery terminals and lugs. We manufacture our products using die-cast copper or premium copper tubing to insure highest quality and reliability. Need a to crimp your terminals & lugs? Scroll to the bottom of the page for a link to our assortment of crimping tools.
No products were found matching your selection.